Doug (Boatally Insane) came over yesterday and helped me (read=he did all the work as evidenced by the pictures)
to pull my dead 454 out. We used his chainhoist on a tree he had used before
for his Checkmate. Considering I have the arch and a big windshield and we were in the middleof a cul-de-sac
it was not your average pull yet the actual pull took less than 30minutes.. The bacardi drinking that followed took a couple hours however. We might need to rethink the treehoist when I throw the 502 back in the 454s place.
: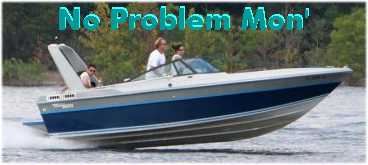 Chaparral 215XLC Merc 502/Alpha
As guys, we are naturally good at fixing things.
Houses, cars, computers, garbage disposals,
washers/dryers, etc. etc.
The one thing we can't fix,
is a woman that's broken